The Cross Keys Hotel, Chatteris
The Cross Keys Hotel in Chatteris is thought to be a 16th or 17th century coaching inn  and nearly 30 years was considered the most haunted pub in East Anglia.  The following article entitled 'The spooky Cambridgeshire pub said to be haunted by a ghost dog', by Cait Findlay was published in the Cambridgeshire News on 7 October 2023.
Venture into any corner of Cambridgeshire and someone will have a mysterious tale to tell you. There's a pub in Chatteris rumoured to have a spooky tail – and yes, that spelling is deliberate.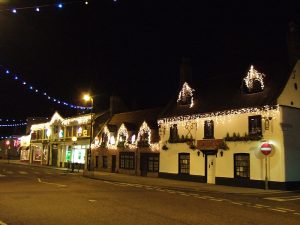 The Cross Keys Hotel is said to have a ghost dog which haunts the premises. In 1996, the inn was named the most haunted in East Anglia and the current owners have said the stories about the pub and its history do not faze them.
Though details are hard to come by, locals say there are multiple reports of people seeing a brown-ish ghost dog in the bar. The pub dates back several hundred years, so it's not hard to imagine that plenty of people (and potentially a dog or two) will have passed through.
According to whatpub.com, the Cross Keys Hotel is "a comfortable and unspoilt freehold pub, restaurant and hotel with a small garden. Packed full of history with collections of medieval weaponry, paintings, china, tapestries and clocks."
As well as its apparent doggy visitation, the pub is said to have ties to the famous diarist Samuel Pepys. It is said that he stayed there in 1663 on his journey to Huntingdon after visiting relatives in the area.
While the famous diarist did not specify the name of the inn, he wrote that he shared ghost stories with his fellow guests before they went to bed. Perhaps they included spine-chilling stories of something going 'woof' in the night.