St Ninian's Cave
St Ninian's is a site of early Christian worship in Scotland and a site of pilgrimage. Local tradition has it that St Ninian would use the cave as retreat. Ninian (aka Trynnian or Ringan) (born 360AD – Died 432AD) was a missionary amongst the Picts of what is now southern Scotland and the first Bishop of Galloway.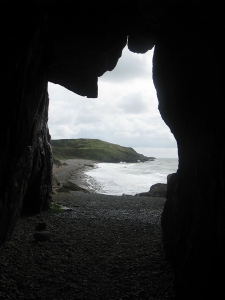 The cave which is now 7m in length was excavated in the 1880's and 1950's. The excavations discovered eighteen carved stones (on display at Whithorn Priory Museum), three burials (one adult, 2 children), a pavement and internal wall. Ten crosses are also carved into the cave wall. The findings suggest the cave was used from at least the early medieval period which would correspond with the time of St Ninian.
Suggested uses for the cave have included a stone carvers workshop or a hermitage associated with the monastery at Whithorn.