Christchurch Priory, Christchurch
Larger than some cathedrals, the Grade I listed Christchurch Priory dates back to the 11th Century and is attributed to Ranulf Flambard (Born circa 1060 – Died 5 September 1128), then Dean of Twynham, who rebuilt or replaced an existing mission church.
Prior John Draper surrendered the Priory on 28 November 1539 during the Dissolution, but the following year it was granted to the folk of Christchurch as their parish church, after the monastic out buildings had been demolished. According to some, Prior Draper is thought to haunt the building.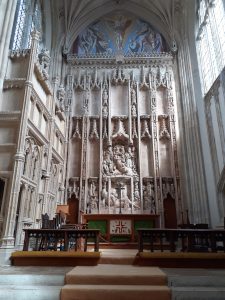 The Legends
There is an early 12th century legend associated with a beam in the Priory which explains how Christchurch got is name. A mysterious carpenter is associated with the building of the priory, a man who apparently ate no food and took no pay. This carpenter was thought to be Jesus Christ, for either a miracle or a very nice piece of carpentry is associated with him. One day the carpenters were hoisting a beam into position when they discovered it was too short. So they brought it back down with the intention of looking into the problem the following day. As morning came they discovered that the beam had been hoisted into position overnight and now fitted perfectly. The work was associated with the strange carpenter as he had vanished. The name of Christ's Church became associated with the building and the name of Twynham fell into disuse. The beam itself became a focal point for pilgrims and is now in the south choir.
There is also a siting legend attached toe the construction of the Priory. St Catherines Hill was the intended construction site according to the story, but as is common with these legend types the building materials moved mysteriously each night to the current location.
Haunted?
According to a Dorset Echo entitled 'Haunted Hotspots' (10/12/2002), 'The figure of a monk, thought to be John Draper, who was the last Prior and died in 1552, has been spotted on several occasions at the entrance to the Draper Chapel. On one occasion a clergyman's son asked why the church still had monks when he saw a figure in monk's robes. And a former vicar walking through the church claimed to have witnessed a ghostly funeral procession of monks taking a coffin from the Priory to the graveyard. Other ghostly happenings in the Priory include the sound of footsteps on a carpeted floor and the smell of incense, even though the burning scent had not been used in the church since the 16th century.'