Tynron Doon
Tynron Doon is the site of the remains an Iron Age hill fort and if a local story is correct, a supposed haunt for a headless horseman.
At a height of 948ft, the site of Tynron Doon can be found on a spur off Auchengibbert Hill.  Defended by three ditches and two ramparts, Tynron Doon falls within the class of a multivallate hillfort.
The site itself has been reused through the ages.  In the 15th century it's prominent position was used for beacons belonging to the Sheriffs of Nithsdale and Annandale.  In the 16th century an L-shaped tower house was built on the site which was demolished in the first half of the 18th century.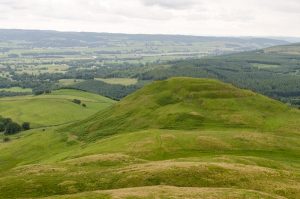 There is an old story of a haunting associated with Tyron Doon.  The following account of it appeared in the 1911 book 'Witchcraft and Superstitious Record in the South-Western District of Scotland by J Maxwell Wood'. 'Passing from Thornhill to Moniaive by way of Penpont and Tynron a conspicuous land-mark is the truncated peak of Tynron Doon, the abrupt ending of the hill range dividing the valley of the Scaur from that of the Shinnel. Round Tynron Doon there linger memories of a spectre in the form of a headless horseman restlessly riding a black horse. The local tradition is, that the ghost was that of a young gentleman of the family of M'Milligan of Dalgarnock, who had gone to offer his addresses to the daughter of the Laird of Tynron Castle. His presence was objected to, however, by one of the young lady's brothers. Hot words followed, and in high wrath the suitor rode off; but mistaking his way he galloped over the steepest part of the hill and broke his neck, and so, with curses and words of evil on his very lips, his spirit was not allowed to pass untroubled to the realms beyond.'