M6 Puma (2021)
The following is extracted from a Gloucestershire Live article by Daisy Herman and Kim Horton, entitled 'Big cat seen 'waiting to pounce' on side of motorway' was published on 4 December 2021.
'Out of place wildlife continues to be spotted in what should be the most unusual locations.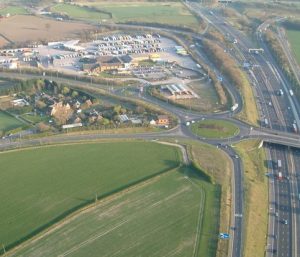 Earlier this year it was reported a wolf had been seen crossing a quiet M5 in the early hours of a wintry January morning.
However, on October 23, a man has claimed he saw a puma getting ready to pounce at 4pm on the M6 as he was coming to the Lymm junction.
Witness Phil said: ""I came off the junction at the M6 Lymm – I was heading North at the time.
"On my left-hand side, in a field, I saw a large black cat lay on its stomach, in the way cats do when they're waiting to pounce on something.
"I suspect it was interested in the sheep."